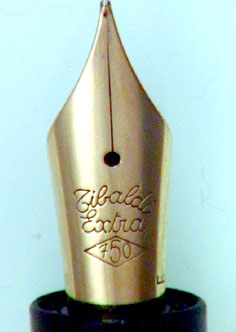 ECHANGE DE PLUME TIBALDI
Votre Tibaldi New Old Stock vous a été livré avec une plume neutre?
Vous souhaitez une plume marquée des attributs originels de la marque?
Nous pouvons répondre à votre demande.
Nous changeons votre plume Tibaldi neutre pour son équivalente marquée des gravures originelles Tibaldi.
Coût: 12.99 euros + coût d'envoi recommandé retour pour votre zone postale.
Process: renvoi de votre plume à vos frais, retour à notre charge.
Clause restrictive: votre plume doit être en état NOS.
---
EXCHANGE OF NIBS SIZE
The Tibaldi celluloid you own has a neutral nib? You want an engraved one?
We have your solution: We exchange the pieces...
Cost 12.99 euros + shipping cost in recommanded postage (concordate with ZIP/country code)
Process: You send your NOS neutral Tibaldi nib - We send back the new engraved one on our cost
Gorgeous deal isn't it?
---